November 18, 2007
If you are free today check out UCSD'S Kaibigang Pilpino's Magkasama.
"Magkasama is a multicultural collegiate conference designed to explore the
dynamics of a powerfully unique and multi-faceted community. This conference
intends to unify an often-fragmented community through activities that help
us to understand and appreciate our diverse backgrounds and interests.
Moreover, the conference concludes with a talent showcase, which is open to
everyone to demonstrate our exceptionally versatile San Diego community."
Now get out there and take part in your community!
---
November 15, 2007
Some updates for all you general members out there!
High School Conference 2007
Cultural, academic, personal growth workshops, Mo's Island Grind, vendors like Ethnic Roots, Lagula Beach, and Nachu, talent show, and some dancing, dancing! So tell me, who wants to skip out on an event like this? Well I know you don't! HIGH SCHOOL CONFERENCE is this SATURDAY, NOVEMBER 17. It will be all day from about 6AM to 11PM. So you have the entire day to come and volunteer! This is a wonderful opportunity for you to outreach to the community and encourage high school students to pursue higher education. If you are interested, please contact Clark Pagaduan, our Academic Coordinator, at cpagaduan@gmail.com
Kuya/ate/ading thanksgiving dinner
Our annual KUYA, ATE, ADING THANKSGIVING DINNER is coming up soon! If you haven't had time to hang out with each other lately, here is the perfect chance!
On Friday, NOVEMBER 30, 2007 bring your Kuyas, Ates or Adings to HOMETOWN BUFFET at 6pm for a fun fillednight of hella food, fun and Kuya, Ate, Ading bonding time!! (We will meet at the pit at 5pm if people need rides)

End of the semester social
DECEMBER 7, 2007 will be our End-Of-The-Semester Social!! Details will follow so keep updated with e-mails & Short Sams!
Filipino Culture Night AuditionS!
Want to learn more about the Filipino Culture? Well ... Samahan is taking it's first steps towards Filipino Culture Night, this is a chance for YOU! to get involved!!! Our Filipino Culture Night Coordinator, Miss Jhoselle Padilla will be holding auditions for the play on November 16 and November 30 @ the Cross Cultural Center from 2-4pm.
December 7 will also be an improvisation for those of you interested in supporting roles. Monologues will be available in the Samahan Office on the wall.
OLD SCHOOL VS. NEW SCHOOL FOOTBALL GAME!
DOWN! SET! HIKE! Old school and New school will be having a flag football game December 1. Interested in getting in on the action? Contact your Sports and Recreation Coordinator at kimberlymaeconocono@yahoo.com

New Officer Position OpeN!
EXTRA! EXTRA! READ ALL ABOUT IT!!! Samahan is looking for a new A.S. Representative! Our current A.S. Rep, Mr. Richard Pelayo, is graduating ... meaning we need a new officer! More information will be announced at the next meeting. So stay tuned!
Andres Bonifacio Samahan Community Outreach
Political Education
AKA ... ABSCOPE. This is a program that helps members become more involved in the community. ABSCOPE will help it's members expand their networking and become more politically aware. For more details, contact your Political Affairs Coordinator, Mr. Jon Valdez at imjayvee@yahoo.com
More details on these and other upcoming events will be available at our next GBM Meeting FRIDAY, NOVEMBER 16 @ SS1401 @ 12PM. The information and dates are also available on our calendar page for your convenience.
Come dressed representing your high school at the meeting! See you there!
---
November 6, 2007
High School Conference Talent Show auditions have been extended to this week. This Thursday will be an opportunity for those interested in auditioning to go ahead and do so. Information is on the calendar as well as the flyer.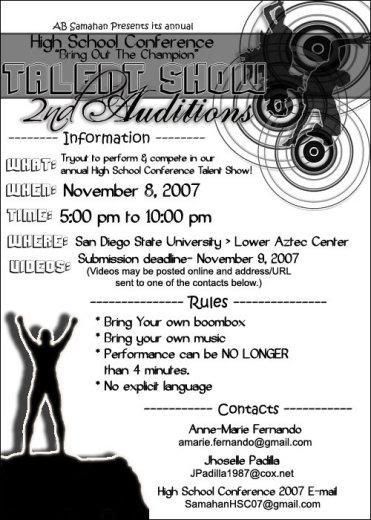 ---
November 5, 2007
Andres Bonifacio Samahan would like to apologize for the misinformation. The Kamalayan Kollective meeting regarding the Justice for Filipino American Veterans will be held TOMORROW, NOVEMBER 6TH. Please check the calendar page for the time & location. We apologize for any inconvenience.
AB Samahan would like to invite you to come out this Tuesday. Kamalayan Kollective of UCSD will be hosting an Eskuelahan to teach more about the Justice for Filipino American Veterans (JFAV). Please come and learn more about what happened to these brave veterans after the war was won.
This SUNDAY on November 11 2007, Samahan will be participating with the FCC and LA schools in the Justice for Filipino American Veteran's (JFAV) March.
For those of you not familiar with why this march is held, here is a little info about it:
Filipino soldiers during WW II became veterans of the U.S. military because on July 26, 1941, President Roosevelt issued a military order inducting members of the entire Commonwealth Army of the Philippines into U.S. military service, placing them under the command of a general officer of the U.S. army to be designated by the Secretary of War, and making them members of the USAFFE. Other outfits affected by Roosevelt's order were the Philippine Scouts ("Old" and "New"), and the guerrilla forces which were organized to resist the Japanese occupation after the USAFFE's surrender to Japan in May 1942.
Prior to the enactment of the Rescission act of 1946 ( The Rescission Act of 1946 which stated that the service of these Filipino soldiers "shall not be deemed to be or to have been service in the military or naval forces of the United States" will simply be corrected by both measures by making this service "deemed to be active service" in the U.S. military), the status of the Filipino soldiers was recognized to be U.S. servicemen. In April 1942, the U.S. Attorney General recognized that the Filipino soldiers ordered in 1941 into U.S. military service by President Roosevelt were "in active service in the land and naval forces of the United States".
For their service, these Filipino military personnel were at first included in consideration for benefits under the 1944 GI Bill of Rights. This law required active service in the armed forces of the U.S. to become eligible for veterans benefits.
The Filipino soldiers were covered by the Second War Powers Act which provided special immigration and naturalization benefits for non-U.S. citizen members of the U.S. military. Its implementation in the Philippines in 1945-1946 made access by the Filipino soldiers to the designated U.S. immigration officer extremely limited, making it impossible to avail of the benefit.
(Source: www.naffaa.org)
While the above text may seem like a history lesson, this was the experience and reality of thousands of Filipino veterans after the war. This is likely the story of our grandparents, because many of our members can relate. This injustice has been ongoing for 60 years, its time to end it.
---